---

Click below to listen to the phrase.
Choose the correct definition a, b or c.
Sorry, wrong answer. Please try again.
Well done ! That's the right answer.
To skyrocket means something is rising at a rapid rate.
The verb stems from the noun skyrocket, a type of firework. It is said to have been first used as a verb in 1895.
French translation
grimper en flèche
How NOT to translate : *fuser dans le ciel
...................................................
Examples in context
'Budget Energy's profits are hit £3.6m in the past year
Electricity firm Budget Energy has seen its pre-tax profits skyrocket to more than £3.6m - just five years after setting up.
Profits increased five-fold in the space of a year at the electricity business, which is run by Eleanor McEvoy.
It now has 61,500 customers here and is currently expanding into the Republic, before taking on the rest of the UK. Turnover at Budget Energy is up around 13%, rising to £34m in the year to June 2015.'
The Belfast Telegraph, 26 January 2016
............
'Marriage, Poverty and the Political Divide
There remains some argument among lawmakers over which Americans should be able to marry, but nearly everyone agrees that marriage itself offers stability and economic benefits to couples and to society at large.
Most of the presidential candidates, on the right and the left, sound the same notes on the importance of families for the state of our union.
At an anti-poverty forum in South Carolina this month, Mr. Rubio and other Republicans talked about the crucial role that marriage often plays in improving financial prospects.
There's a catch, though. Even if marriage rates were to skyrocket, there would be no shortage of poor married people.'
The New York Times, 24 January 2016
...................................................
Everyday usage
Last month we saw our profits skyrocket due to the influence of our partner company.
Good news. Sales have been skyrocketing over time in response to the change in weather.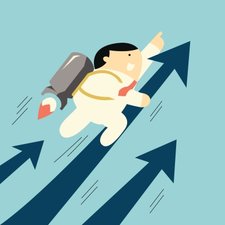 Sorry, wrong answer. Please try again.
---
Missed last week's phrase ? Catch up here