Sorry, wrong answer. Please try again.
Sorry, wrong answer. Please try again.
Well done ! That's the right answer.
If you push your luck, you do something risky that could spoil the success you have already had.
This is why it is commonly used in the negative form 'don't push your luck !'.
The phrase often implies unreasonable expectations.
The origin of the phrase is unclear and probably comes from the action of pushing something so hard that it could break and you could lose it all.
French translation
Ne tire pas trop sur la corde / Ne pousse pas trop / Ne tente pas le diable / Tu joues avec le feu / Pousse pas l'bouchon
How NOT to translate : *Ne pousse pas ta chance
...................................................
Examples in context
Leclerc ends Ferrari's wait for Italian GP win.
'Charles Leclerc withstood pressure from Lewis Hamilton and then Valtteri Bottas to end Ferrari's nine-year wait for an Italian Grand Prix victory with a brilliant drive at Monza.
Leclerc seemed to acknowledge the fact he had pushed his luck at times.
"I did a few mistakes, but in the end I finished first and I'm very happy with this. I have to be careful with the mistakes but none of them cost me positions today."'
ESPN, 8 September 2019
...................................................
Everyday usage
She's already got a good pay rise, she shouldn't push her luck by asking for more.
The ice is too thin in April, don't push your luck !
I've had some good winnings at blackjack, but I don't think I should push my luck any further.
You might be pushing your luck asking them to play the song live.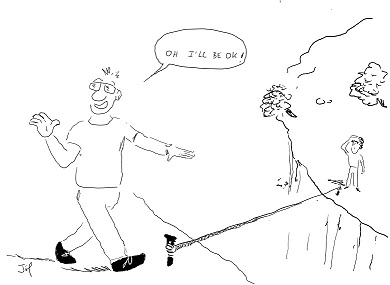 ---
Missed last week's phrase ? Catch up here