---

Click below to listen to the phrase.
Choose the correct definition a, b or c.
Well done ! That's the right answer.
On your bike ! is a British slang term 'politely' telling some one to 'go away'. Go away and stop bothering me !
Beware, it's a rather rude thing to say.
Hit the road, jack.
Get packing'.
Don't let the door hit you on the way out.
Make tracks.
Beat it.
All perfectly american ways of saying the same.
French translation
bouge de là !
How NOT to translate : *allez, sur ton vélo !
...................................................
Examples in context
''Besieged' villagers say 'on your bike' to anti-social cyclists
Great Budworth in Cheshire, where locals have issued an 'on your bike' warning to cyclists
Locals in a picture-postcard village have issued a warning to cyclists after accusing them of being anti-social louts who pose a danger on the roads.
Villagers in Great Budworth say they are fed up with groups of up to 30 cyclists "shouting and swearing" at each other as they pedal at up to 40mph through the streets.'
The Telegraph, 11 July 2016
...................................................
Everyday usage
"Can you lend me some money ?" "On your bike, mate !"
A hefty bartender wants to ask a very unwelcome customer to leave the bar.
He could say :
My dear sir, you have caused myself, and others quite a lot of trouble in this establishment tonight, but that final insult you made to my wife now forces me to kindly ask you to leave immediately.
or
On your bike !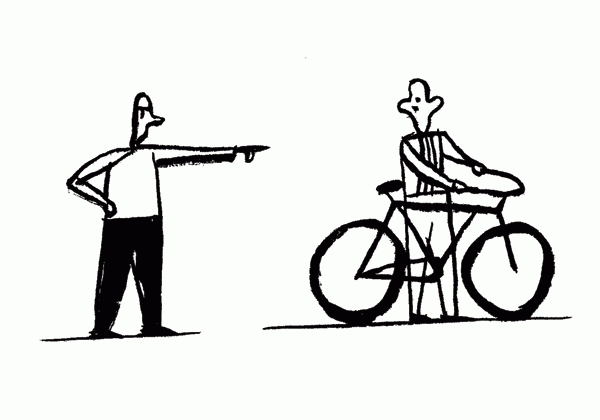 illustration by Jeff Fisher
Sorry, wrong answer. Please try again.
Sorry, wrong answer. Please try again.
---
Missed last week's phrase ? Catch up here