---

Click below to listen to the phrase.
Choose the correct definition a, b or c.
Sorry, wrong answer. Please try again.
Sorry, wrong answer. Please try again.
Well done! That's the right answer.
"Break a leg" is an expression used to wish someone good luck before they start a new venture, such as a project, performance, or presentation.
The phrase is used as it is often believed that saying "good luck" in this circumstance is actually bad luck.
French translation
je croise les doigts !
How NOT to translate : *Casse-toi une jambe !
...................................................
Examples in context
'The Misery of a Doctor's First Days
One night in July—the night before her first day of work—a new doctor picked at a container of sushi in her apartment on a sleepy street in Brooklyn. She tried to swallow a few bites as she chatted on the phone with her best friend from medical school, who was also marking the eve of his first day as a working physician. "Break a leg," she said. "But not really."
There wasn't any street noise to keep her up as she tried to go to sleep early for her 5:00 a.m. start—but even in the silence, heavy with midsummer humidity, she couldn't drift off. For two months, since she'd graduated medical school, her body had registered her mounting stress leading up to her first day in the hospital.'
The Atlantic, 1 October 2015
............
'So we've survived another long NASCAR season. From the green flag at Daytona International Speedway to the checkered flag at Homestead-Miami there were stories both good and bad, and some that were downright ugly.
On track, Kyle did what he had to do once granted a waiver by NASCAR. He scored a victory at Sonoma in June, somewhat surprising given the difficulty of road racing and his injuries. Kyle then won three of the next four races, then raced his way inside the top 30 in points, survived the Elimination rounds and scored his fifth season win and his first title at Homestead.
"I guess you've heard that old saying 'Break a leg,' " Busch said during his acceptance speech in Las Vegas in December. "...it means good luck. As I stand here today, I can say that breaking a leg works in racing."'
The Examiner, 27 December 2015
...................................................
Everyday usage
I hope Linda does well today in the presentation. I told her to break a leg before she got up.
Here are the notes I prepared for the meeting today. I'm sure you will do really well. Break a leg!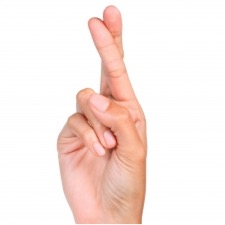 ---
Missed last week's phrase? Catch up here