---

Click below to listen to the phrase.
Choose the correct definition a, b or c.
Sorry, wrong answer. Please try again.
Well done ! That's the right answer.
To have kittens means to be very sad or worried about something.
Little is known about its origin, although it is said to be the British version of the American "to have a cow."
French translation
piquer une crise
How NOT to translate : *avoir les chatons
...................................................
Examples in context
'The day All Blacks legend Jonah Lomu knocked back the Dallas Cowboys to stay in New Zealand
With his barnstorming ability to run over the top of opposition defences, Jonah Lomu changed rugby forever during the 1995 World Cup, but he was very nearly lost to the game recalled Eric Rush on Monday.
In an emotional, moving and funny eulogy, former teammate Rush detailed why he stayed in rugby.
"One morning, it was before one of the trials for the 1995 World Cup, the coaches all went to the gym. So we were in the breakfast room and the boys are just going for it, man. We are eating anything we like."
But despite Lomu's love for food and the lingering questions over his fitness, Rush said that he never let anyone down in a match and always came to training.
Not only were Lomu's footsteps thunderous on the field, but off the field he was just as loud, Rush recalled.
"It was about this time (mid-1990s) that the cars started coming into his life and Phil (Kingsley Jones) used to have kittens about the cars that this fella was collecting," he said.'
Fox Sports, 1 December 2015
...................................................
Everyday usage
I just got off the phone with Mr Smith, our largest client- he's having kittens about the latest regulations change. We must work around it.
There's no need to have kittens about these reports. They are not final.
I had kittens when I heard about the plans to launch the unfinished product.
It's fine to question what's happening, but don't have kittens about it. It's not going to change the way the company values its employees.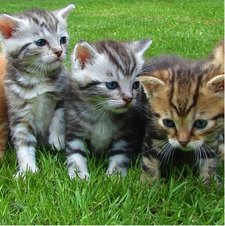 Sorry, wrong answer. Please try again.
---
Missed last week's phrase ? Catch up here