---

Click below to listen to the phrase.
Choose the correct definition a, b or c.
Well done ! That's the right answer.
To raise one's game means to work harder to consistently improve performance.
French translation
mettre la barre plus haut, tirer vers le haut
How NOT to translate : *élever son jeu
...................................................
Examples in context
'Downton's Hugh Bonneville 'thought his mother was a spy'
Former Downton Abbey actor Hugh Bonneville suspected his late mother was a spy for MI6, he has told the BBC.
He also confesses to having felt intimidated acting with his on-screen mother in Downton, Dame Maggie Smith.
He said : "I can remember the very first scene I did with her and I was absolutely terrified, and I think I can remember the last scene with her and I was absolutely terrified.
"She is the most astonishing actress. Her wit is legendary, as you say, and she doesn't suffer fools. And you raise your game, you have to.
"It's great acting opposite her because she's got extremely high standards for herself and expects them of others."'
BBC News, 28 February 2016
............
''Have I found 'the one' ? You asked Google – here's the answer
Have you found the one ? That's an easy one. No. No you haven't, no you can't, no you won't. You haven't found "the one" because there is no "one" to be found, by you or anyone else.
This is all very unromantic. But most of us get more realistic as time goes by. We find someone we can spend the rest of our life with – a real person who has faults like us, not some nonexistent and unattainable ideal.
Call this "settling" if you must, but you could also see it as appreciating the person you have stumbled across, and giving the pair of you the chance to raise your game. You let them make you happy, and you try your hardest to do the same for them.'
The Guardian, 24 February 2016
...................................................
Everyday usage
We've raised our game in the last six months. Profits have more than doubled.
You really need to raise your game if you want to join the marketing panel next year.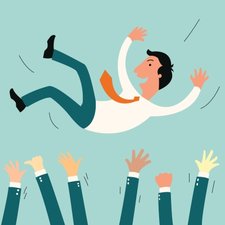 Sorry, wrong answer. Please try again.
Sorry, wrong answer. Please try again.
---
Missed last week's phrase ? Catch up here