Sorry, wrong answer. Please try again.
Well done ! That's the right answer.
'monkey business' means trickery, deceitful behaviour. The phrase also refers to silly or frivolous behaviour.
The phrase has become the title of numerous songs, films, television programmes, etc.
Among several examples, you may know Chuck Berry's Too Much Monkey Business or Michael Jackson's Monkey Business.
French translation
manigances, magouille, combine, entourloupe, bêtises
How NOT to translate : *du business de singe
...................................................
Examples in context
'Taganak Mayor warns no more monkey business
KOTA KINABALU : Turtle Islands (Taganak) Mayor, Mohd Faizal Jamalul, has ordered policemen and soldiers to neutralise those involved in heinous crimes, especially the kidnap-for-ransom Abu Sayyaf Group and ISIS terrorists, if spotted in his municipality.
Irresponsible and thoughtless individuals transporting undocumented Filipinos to Sabah, including those involved in any sort of smuggling activities, especially dangerous drugs, as well as outlaws using the municipality as a jump-off point will be outrightly arrested without much questioning and subsequently turned over to the local authorities.
….
"I will never tolerate 'monkey business' for as long as I am the mayor of the town...do it in some other places if you (unwanted people) wish to continue to be freemen or live longer," he warned.'
Daily Express, 12 August 2019
............
'Monkey business : British woman, 46, is mugged by a BABOON while on a relaxing seaside walk with her fiance in South Africa
This is the tense moment a baboon chases down and mugs a woman who was on a relaxing seaside walk on a beautiful South African beach.
Mark Bune, 58, and his fiancée Sian Elston-Lowe, 46, were hiking along Kogel Bay Beach in Cape Town, hoping the dolphins and whales would be visible in the clear blue waters on July 21.
Mr Bune spotted a baboon following them but said he was not 'too concerned', until roughly half an hour later when the animal ran up to Miss Elston-Lowe from behind.'
Mail online, 24 July 2019
...................................................
Everyday usage
The substitute teacher put an end very quickly to all the monkey business.
One had to be careful when dealing with the hawkers in the market, who were famous for their monkey business.
No monkey business during fasting, Stanley.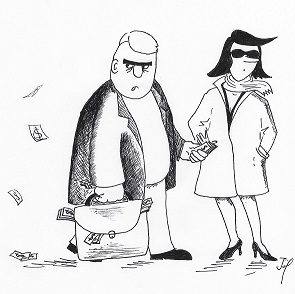 Sorry, wrong answer. Please try again.
---
Missed last week's phrase ? Catch up here